Acting Chairperson
---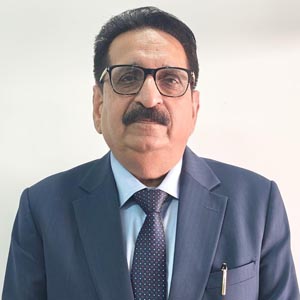 Justice Iqbal Ahmed Ansari


Born on 29th October, 1954, at Tezpur (Assam), he did his B.Sc. from Darrang College, Tezpur. He was a good debater and was awarded the trophy for the best literary competitor of his college.

He did his graduation in law from Tezpur Law College, where his father, a Bar-at-Law himself, was founder Principal. He handled both civil as well as criminal matters as a lawyer. He remained deeply involved with the activities of All Assam Lawyers' Association and many other socio-cultural and educational bodies. He was President of Tezpur Lions' Club also. He has been a life member of Indian Institute of Public Administration.

He joined Grade-I of Assam Judicial Service in April, 1991 and, having worked as District & Sessions Judge, at Karimganj, Dibrugarh and Nagaon, became Registrar General of Gauhati High Court. He underwent training on the subject of Gender and Law, in Warwick University in UK, on being nominated by National Judicial Academy headed by Chief Justice of India.

Blessed with analytical intellect and reforming imagination in equal measures, utmost judicial rectitude and judicial courtesy have been his hallmarks from the very beginning of his judicial career.

He was elevated to the Bench of Gauhati High Court as Judge on 4th March, 2002. He was the Judge In-charge, North East Judicial Officers Training Institute, with the responsibility of training Judicial Officers. He served as Executive Chairman of State Legal Services Authority in Arunachal Pradesh and Nagaland and has accordingly performed the duty of legal awareness, legal education and free legal aid by holding legal awareness camps. He has presented papers and delivered lectures in many seminars all over the country. He has delivered lectures at police training Institutes, Judges Training Academies and Army War College on various aspects of law and Judicial Governance Programmes.

He, on being nominated by the Chief Justice of India, attended Judicial Governance Programme, at Singapore. He chaired the session on corporate criminal liability at the commonwealth lawyers conference.

Justice Ansari is known for a combination of law for liberty and passion for justice and to his credit has the privilege of being one of the Judges in the Country having the highest number of reported Judgments which are very often quoted as authorities in judicial proceedings.

"When people fear the Government there is tyranny, when the Government fear the people there is liberty"; observed Justice Ansari while ruling that the Central Bureau of Investigation, popularly called CBI is, in-fact, a constitutionally invalid police force and is not empowered to investigate crimes in the famous case of Sh. Navendra Kumar vs. Union of India on 06.11.2013.

On 11.11.2013, upon his transfer from Gauhati High Court, he joined Patna High Court, as a Judge of the High Court and retired as Hon'ble Chief Justice of the Patna High Court on October 29, 2016.

Right to consume Liquor is not a Fundamental Right held Justice Ansari in the famous case in which the validity of the prohibition law in the State of Bihar was questioned; but still the prohibition law was held to be constitutionally invalid and unenforceable on various constitutional aspects.

He was the Chairman of Bihar Judicial Academy from 02.01.2014 till 08th August, 2015, and involved in the planning and execution of judicial governance programme. He has been in a position to import new insights of judicial governance programme, which have benefited not only the new entrants of judiciary, but also impacted the working attitude of the serving Judges in the justice delivery system.

Hon'ble Justice Iqbal Ahmed Ansari has joined as Chairperson Punjab State Human Rights Commission on 01.08.2017 for full term of five years.